Skip to Content
Vented Gas Fireplaces in Edgewater, Bowie, & Annapolis
Vented Gas Fireplace Installation Services
This winter stays warm and cozy with a vented gas fireplace by Bay Stoves. Our team has been proudly installing gas furnaces and keeping families comfortable and safe throughout Edgewater for over 30 years. We work with name-brand companies we trust to provide only the very best for our community. Choosing the right fireplace can be a bit confusing, so we're here to help. Our experts can help you find the right fireplace that works for your home, needs, and budget. There are plenty of styles, sizes, and options to choose from. Learn about vented gas fireplaces and how they can provide your family with the warm, reliable heat you need this winter. Contact us today to get started!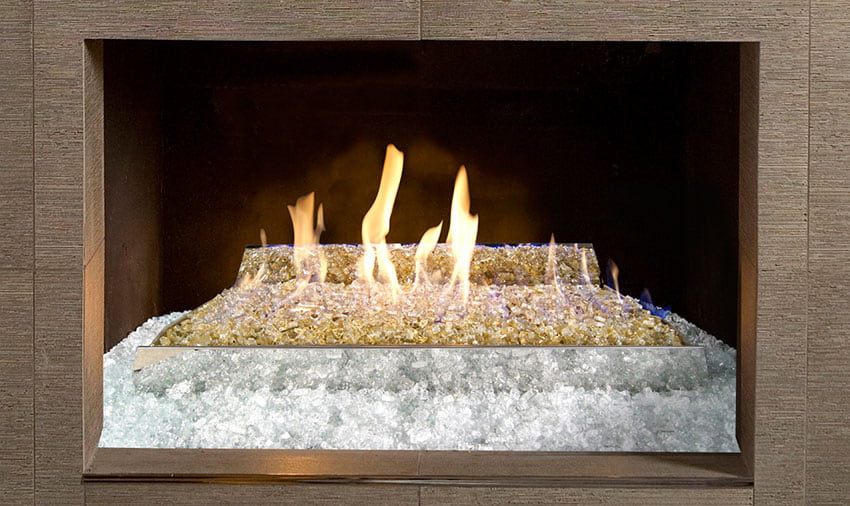 Why Install a Vented Gas Fireplace?
Venter gas fireplaces work as the name suggests – they have a vent that connects to the outside. This vent takes in outside air and exhausts the gas back to the outside. This improves your air quality immensely. While almost all fireplaces have a chimney for venting, the vented gas fireplace adds horizontal venting as well through an exterior wall in your house. Vented gas fireplaces also result in less heat loss due to a constant airflow from outside. This also helps provide for a more realistic-looking flame in your fireplace.
Safety
Vented gas fireplaces use high-temperature glass panels to protect your family from the elements while still providing great, reliable heat. It uses 100% combustion air to feed the fire without taking in any air from inside your home. This design does not affect the indoor air quality that other fireplaces can. Plus, since it is a vented unit, if the pilot light goes out, the gas also turns off. This prevents gas from buildups in your home, creating a dangerous environment.
Efficiency
Unvented gas fireplaces require a higher burn temperature to lower the risk of emissions. This creates a higher burn for an unrealistic-looking, sometimes blue flame. Vented gas fireplaces control the temperature more efficiently, giving you flames that closely resemble a traditional wood-burning fireplace. All of this results in a temperature system that uses less gas. This then means lower energy bills and more efficient ways of heating your home this winter.
Vented Gas Fireplace vs. Ventless Gas Fireplace
The main difference between vented gas fireplaces versus ventless is in their design. A ventless gas fireplace takes in air from your home and does not contain a vent to the outside horizontally where a vented fireplace does. Ventless fireplaces draw air for combustion directly from inside your home. They are fuel-efficient due to the heat staying in your home. But each home, budget, and needs are different. We'll go over the best solution for you after a brief chat. Our helpful team loves finding you the best deal on a fireplace that will keep you and your family warm and safe without breaking the bank on installations, maintenance, and efficiency.
Our Trusted Brands
At Bay Stoves, we work with top name-brand companies because we believe in them. We wouldn't sell you on a fireplace that we wouldn't install in our own homes to keep us cozy throughout the winter. These brands have a long history of providing reliable, safe, and efficient heating. If you have any questions or need to chat with an expert, give us a call or visit our shop! We'll be happy to help you find the right heating solution for your home. Our trusted brands include:
Providing High-Quality Hearth Products Since 1985