Skip to Content
Wood Fireplaces in Edgewater, Bowie, & Annapolis
Bay Stoves: Your Premier Source for Fireplaces Since 1985
When the fall and winter nights start getting colder in Maryland, nothing beats a wood-burning fireplace's rustic charm and warmth. For over 35 years, Bay Stoves has been a one-stop-shop for all your hearth and fireplace needs in Edgewater, Annapolis, Bowie, and surrounding areas. Whether you're upgrading an older model or discovering the benefits of adding a fireplace to your home for the first time, you won't find a better selection than in our showroom. Not only do we carry quality brands, but we also back what we sell with exemplary service, which includes custom hearth installations, chimney cleaning, and chimney inspections. From wood fireplace construction to installing a wood fireplace, our talented team does it all. Please contact us today to inquire about wood fireplace costs and more!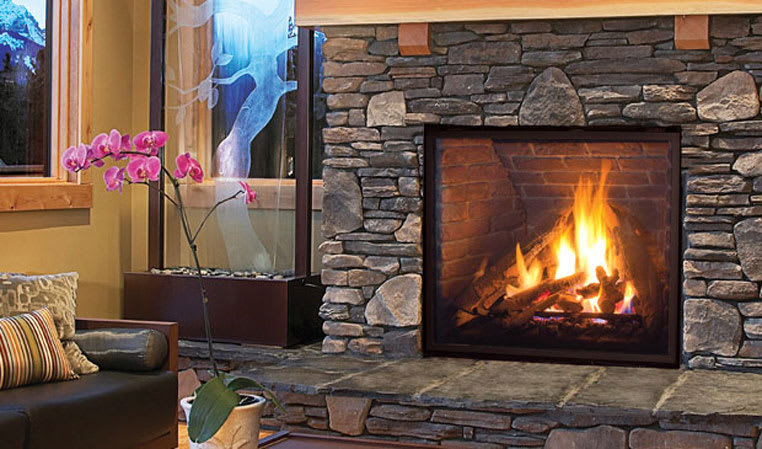 A Quick Guide to Understanding How Wood Fireplaces Work
Fireplaces have been captivating homeowners for centuries. Modern wood fireplace designs allow them to provide more heat while producing fewer harmful emissions. Your fireplace's hearth and surround not only look aesthetically appealing with their brick mantels, but they also help protect your walls from soot damage. Smoke from your fireplace safely exits it via the flue and chimney, while the firebox, damper, and chimney cap offer protection from moisture and unwanted pests. It's no secret that hot air rises. Your fireplace's chimney allows the heat and smoke to escape your home in a steady flow.
What Are the Benefits of Installing a Wood Fireplace?
Wood fireplaces are always in high demand at Bay Stoves. A fireplace serves as the focal point of any room and can help you add value should you ever decide to sell your home. Here are a few other reasons why you should consider adding a wood fireplace to your Maryland home or business:
Versatility in Wood Fireplace Designs – Whether you own a classic Colonial-style home or a modern bungalow, wood fireplace designs are versatile enough to suit any décor. You can even choose the type of firewood you burn. From quick-burning logs to long-burning and aromatic, the possibilities for relaxation in front of your new fireplace are endless. If you need wood fireplace ideas for your beautiful custom fireplace installation, our experts are happy to assist.
Wood Fireplace Safety – Wood fireplaces are safer today with fewer emissions to worry about, thanks to modern building standards. However, you still shouldn't ever leave a fire unattended. Fireplaces and their chimneys need to be cleaned and inspected regularly to eliminate their risk of being a fire hazard because of built-up soot and debris. As long as you practice fireplace safety, you'll enjoy your new wood fireplace for many years to come.
High-Efficiency Wood Fireplaces – While traditional wood fireplaces may not have earned a reputation for being the most energy-efficient, today's models may include fireplace inserts to increase their efficiency. Because wood is a sustainable resource, you can also feel better about making an environmentally-friendly choice over fossil-fuel-burning fireplace alternatives.
Superior Warmth & Ambiance – There's no substitute for a warm, crackling fire and its heady aroma. In the unlikely event your electricity goes out in the middle of winter, you won't have to worry about being left without a viable heat source. Your wood fireplace will keep you so cozy you may not mind being without your electricity temporarily. Many recent studies have suggested fireplaces cost less to warm your home than electricity or gas.
We Offer a Variety of Indoor & Outdoor Wood Fireplaces for Sale
Modern wood fireplaces come in a variety of sizes and styles to complement any home décor. Bay Stoves proudly carries many of the industry's top brands backed by excellent warranties, including:
Jotul Wood Fireplaces
Osburn Wood Fireplaces
A Leading Wood Fireplace Dealer in Edgewater, MD
As a leading wood fireplace dealer in Maryland since 1985, Bay Stoves would love to show you the variety of wood fireplaces for sale in our Edgewater showroom. Stop by or contact us for more details about their pricing and availability. We also offer gas and electric fireplaces, fireplace inserts, freestanding stoves, outdoor fireplaces and fire pits, and more. Our staff would also be happy to provide helpful tips for the most efficient operation of your new wood fireplace long after the sale!