Skip to Content
New Fireplace Door Installation Edgewater, Annapolis & Bowie
Put a New Fireplace Door in Your Home Today
Bay Stoves provides fireplace door installation services to Edgewater, MD homeowners. Fireplaces create warm and cozy environments and provide ways to cut down on traditional energy consumption. Homes with a fireplace make residents happier and more fulfilled. Fortunately, Bay Stoves has years of experience selling and installing gorgeous doors that keep your fireplace looking great and operating safely. Your safety and comfort are our primary concerns. Contact us today to shop for a new door and schedule installation.
Advantages of Investing in A Brand-New Fireplace Door
Energy-Efficiency: Outdoor temperatures constantly battle against your power bill. Any crack or crevice in a door or window frame allows cold air and taxes the HVAC system. Most people don't think about their fireplace, but the chimney is one of the most exposed places in the home! A fireplace door will trap outside air inside the chimney where it belongs. Many customers report slight dips in their energy costs, and every little bit counts.
Cleanliness: Fireplaces are integral features in any house and draw attention to their attractiveness. But fireboxes are messy. After an evening spent enjoying a fire, most homeowners don't want to clean the ashes. A fireplace door will hide the mess and give individuals a chance to clean when it's most convenient for them to do so. We have also found a fireplace door helps people keep their hearths clean throughout the fall and winter months.
Aesthetics: Bay Stoves sells a vast range of fireplace doors, so homeowners will always find one that matches their sensibilities and home décor. From modern-style metal-framed doors to ornamental iron, there's something for everyone. Our goal is to offer enough options, so purchasing a fireplace door feels like a custom experience! We're confident our installers will place a fireplace door that fits seamlessly with the rest of the house.
Upgrades: If the brick surrounding the fireplace has seen better days, a new door can subtly improve the overall look by drawing the eye from the brick. Guests will see a gleaming, brand-new door, not brick in sore need of repair. Even if your overall fireplace is in fine shape, a new door gives it a facelift and infuses newness into your home.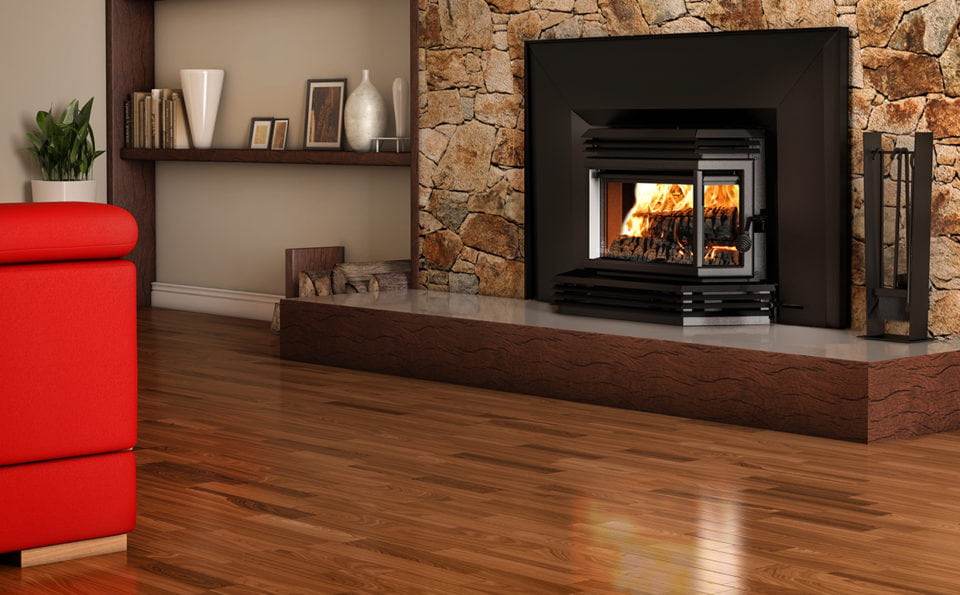 Bay Stoves Supplies Stoll Fireplace Doors
We are proud to deal Stoll Industries' fireplace doors. Their commitment to enduring quality matches our own. Our team works hard to ensure all of Stoll's offerings are in our showroom, ready for our customers. For over 50 years, Stoll has handcrafted beautiful custom fireplace doors for their clients. By contacting Bay Stoves, you'll gain access to traditional, rustic, modern, and aluminum doors in various styles and colors.
Experience, Qualified Fireplace Door Installation Technicians
We can do the hard work for you. We understand our clients don't have the time or know-how to install their fireplace door. Bay Stoves has a team of in-house technicians who understand how to deliver and install a new fireplace door. There are always surprises, but they know how to adjust quickly and finish the installation efficiently. We'll never get in your way or subject you to a lengthy installation process. Our comprehensive fireplace door installation services are a cut above the rest from the measurement phase to clean up.
Contact Us Today for Fireplace Door Installation
We pride ourselves on our customer service and expansive inventory. Customers who wish to upgrade their fireplace door won't have to explore more options. We have everything they need. Our showroom features all of our fireplace doors, fully-integrated into various settings. We want our customers to see how a door might work with their home's décor and whether it's a good fit. Our dedication to creating an excellent customer experience makes Bay Stoves such a trusted name in the fireplace game. Contact us today to learn more about fireplace doors or schedule an installation date.
Providing High-Quality Hearth Products Since 1985