Skip to Content
Wood, Electric, & Gas Fireplaces Keep Edgewater, MD Homes Cozy
You'll Enjoy Many Years of Warmth with Your New Fireplace
The addition of a fireplace is one of the best ways to increase your home's value. While fireplaces have historically been used for cooking and heating water for various domestic uses, modern fireplaces are usually coveted for their cozy ambiance. Many homeowners also take pride in being less dependent on the utility companies with these eco-friendly, independent heating sources. Today's fireplaces come in all shapes, sizes, and designs to complement any room of the house. In business since 1985, Bay Stoves is a premier provider of wood, electric, and gas fireplaces in Edgewater, MD, and other areas in Anne Arundel County. Stop by our showroom to view our hearty selection of hearth products in person or contact us with questions. We would be happy to custom-order the perfect fireplace to suit your needs!
What Types of Fireplaces Does Bay Stoves Carry?
Modern fireplaces are versatile, offering more customization options than ever. You can choose between indoor and outdoor fireplaces, vented and ventless models, and even between traditional wood fireplaces and more conventional gas and electric fireplaces. Bay Stoves carries them all:
Wood Fireplaces – There's no substitute for the rustic charm and warmth of a wood-burning fireplace. Modern wood fireplaces generate more heat and less harmful emissions. Brick fireplace mantels protect your walls from soot damage while smoke exits via the flue and chimney. You'll want to have your fireplace inspected and cleaned regularly for safety reasons, as built-up soot or debris can be a fire hazard if ignored.
Gas Fireplaces – Gas fireplaces require less maintenance than wood alternatives and can save you money on your heating bills. Releasing fewer emissions makes them an eco-friendlier option, and they're generally easier to install in your home. We can even install a gas fireplace insert into your existing fireplace so you can begin utilizing the convenience of a gas fireplace without an invasive installation.
Electric Fireplaces – Electric fireplaces can be controlled with a remote. You'll enjoy direct temperature control to adjust their heat up and down to your preferences. Realistic, 3D flames give the illusion of light without the emissions of smoke, soot, and ash from a real fire. Electric fireplaces don't require a chimney, offering you more flexibility in their design and fewer installation and maintenance costs. We also install one-piece electric fireplace inserts.
Vented Gas Fireplaces – Vented gas fireplaces take in outside air and exhaust the gases back to the outside, resulting in better indoor air quality. Most have chimneys for venting, but you can also have a horizontal vent installed, allowing venting through an exterior wall. Vented gas fireplaces result in less heat loss and generally more realistic-looking flames.
Vent-Free Gas Fireplaces – Ventless gas fireplaces vent outside air back inside but don't vent anything back out of your home. This allows for better heating efficiency. Ventless gas fireplaces are easier to install in any room, even along interior walls. They're also usually more affordable. However, you may notice more soot odors and condensation issues versus a vented option.
We Also Provide Expert Fireplace Door Installation
Once you've settled on the best type of fireplace for your home and budget, you should consider adding custom fireplace doors. Our technicians provide fireplace door installation services to ensure yours is a perfect fit. We carry traditional, modern, rustic, ornamental iron, and aluminum doors in all styles and colors so you can find one that matches your home décor. Fireplace doors help make fireplaces more cleanly and energy-efficient. Protect your fireplace investment with gorgeous new doors to keep it looking great and operating safely for many years to come.
Carrying Top-Tier Fireplace Brands in Our Edgewater Showroom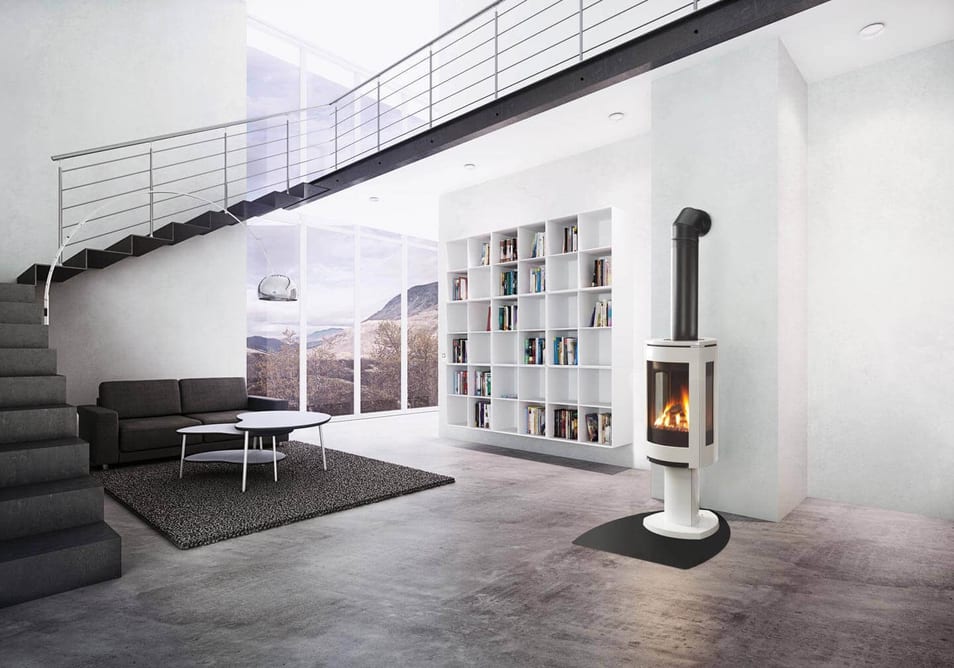 Whether you prefer a vented or ventless gas fireplace, Bay Stoves carries the leading industry brands renowned for their warmth, energy efficiency, and longevity. Browse the following in our showroom:
Enviro
Montigo
Realfyre
Outdoor Greatroom
Dimplex
Modern Flames
Jotul Wood Fireplaces
Osburn Wood Fireplaces
What Are the Benefits of Investing in a Fireplace?
Ask anyone who has a fireplace in their home, and they'll likely tell you about the numerous advantages it has to offer. First and foremost, fireplaces are versatile, making a welcome addition to any room. They're the natural focal point of any space, creating a cozy, intimate setting. Whether it's just you and your partner or you entertain friends and family often, just about everyone enjoys the sensation of sitting around a warm fireplace on a chilly evening. Fireplaces provide the perfect backdrop for a movie or game night at home. They're also ideal for snuggling up on the sofa with a good book and a cup of hot tea or coffee for the ultimate relaxation after a busy workweek. Don't let the idea of chopping firewood or a smoky home deter you from investing in a fireplace, as today's electric fireplaces are safe, smoke-free, and just as satisfying as the real thing.
Why Choose Bay Stoves for All Your Hearth Needs?
Family-owned and -operated since 1985, Bay Stoves has over 35 years of expertise to bring you the best freestanding stoves, fire pits, and fireplaces in the Edgewater area. Our exceptional customer service extends well past the sale to include custom hearth product installations, fireplace door installations, chimney sweeping services, chimney inspections, helpful advice, and so much more. You can rely on us for everything you'll need to maintain your new electric, gas, or wood fireplace for years of enjoyment, including fireplace tools and fireplace inserts. Could you use some fireplace ideas for your Maryland home? Bay Stoves would be happy to help you select the perfect indoor or outdoor fireplace for your needs. Contact us today to get started with an installation estimate!
Providing High-Quality Hearth Products Since 1985