Skip to Content
Variety of Energy Efficient Gas Logs in Edgewater, Bowie, & Annapolis
Gas Fireplace Logs: Enjoy an Energy-Efficient, Roaring Fire
You might think a gas fireplace can't deliver the potent combination of heat and aesthetics a wood-burning fireplace can, but you'd be wrong. At Bay Stoves, we're excited to offer Realfyre's line of vented and vent-free lines of authentic-looking gas fireplace logs. Anne Arundel customers have raved about the functionality and aesthetic qualities of these logs, pointing to the warmth and energy-efficient qualities of Realfyre's offerings. We offer a wide selection of gas fireplace logs at our Anne Arundel showroom, and we're committed to high-quality products and installation services.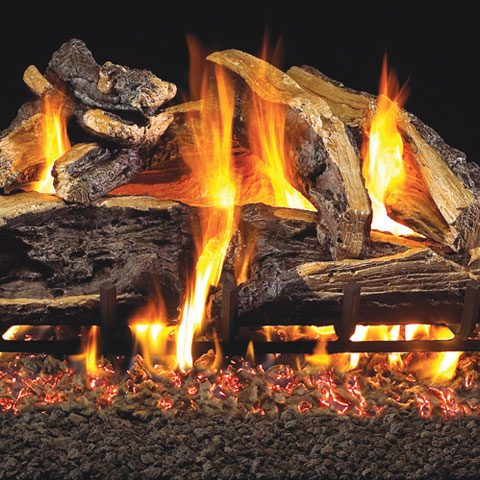 Bay Stoves Offers Premium Vented Options
For users wanting a vented offering, Realfyre has you covered. Bay Stoves is proud to offer a smattering of high-quality, realistic options, including:
Charred Series: Created from real wood samples, Realfyre artists recreate bark details and charred wood colors for a vivid recreation of real logs.
Designer Series: Hand-painted and modeled from real wood, the designer series is a fantastic addition to your fireplace.
Classic Series: Classic and enduring, this line maintains the rustic look of a wood-burning fire with all the convenience of a gas flame.
G52 Radiant Fyre: Flames dance around expertly created gas logs, creating an enticing and authentic-looking appearance in your hearth.
G31 Three-Tiered Vented System: This option uses fewer BTUs than other vented burner systems to create a full-bodied flame.
Small Sets: Ideal for smaller fireplaces, including bedroom, bathroom, or kitchen units, these logs are no less realistic.
Enjoy a Roaring Fire with Gas Logs
When vented gas fireplaces logs aren't an option, vent-free logs are ideal. Bay Stoves offers an array of vent-free logs that reduce how much gas is exuded while your fireplace is burning.
Foothill Oak Series
With an energy-efficient, clean burn, this series is perfect for those who wish to limit gas output in their home.
Evening Fyre Series
Sculpted, painted, and crafted to look just like real wood, this series offers a vent-free alternative to vented logs and low BTU outputs.
Charred Series
The front log is designed to appear well-burnt, and the rest augment that front log, creating a vibrant appearance that looks just like the real thing.
Contact Us Today
We encourage you to visit our showroom and see what we can offer. In addition to authentic gas fireplace logs from Realfyre, we offer wood stoves, gas fireplaces, and chimney inspections.
Providing High-Quality Hearth Products Since 1985