Skip to Content
Gas Outdoor Fire Pit Tables in Edgewater, MD
Bay Stoves Can Help You Transform Your Outdoor Living Areas
For many homeowners, the desire to bring friends and family together is often what prompts them to invest in transforming their outdoor living areas. No patio is complete without an outdoor fire pit. Fire pits allow you to enjoy your backyard year-round with a roaring, cozy fire on breezy autumn or winter nights. They're also ideal for summer gatherings with hot dogs and s'mores roasted on an open fire. A fire pit brings back fond camping memories for most people while also providing warmth and comfort. Fire pits come in traditional wood-burning models, as well as modern gas ones that offer more safety and convenience. If you're on the hunt for a new gas outdoor fire pit table in the Edgewater, Annapolis, or Bowie, MD area, Bay Stoves has you covered. Visit or contact us today to view our vast inventory!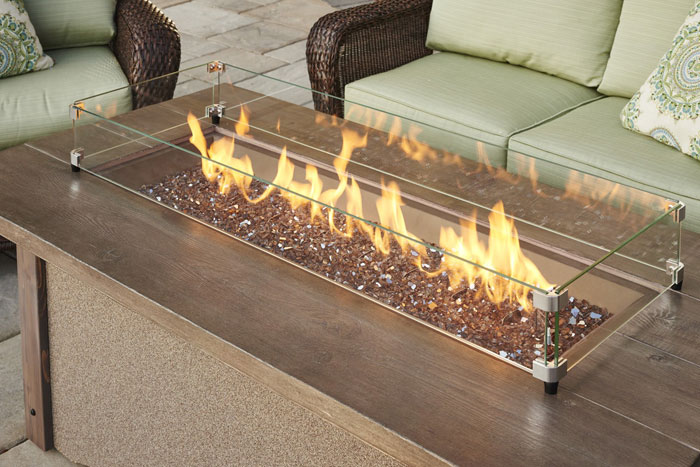 What Is a Gas Fire Pit Table? What Type of Gas Fuels It?
An outdoor gas fire pit table features a base and top design, making it more versatile than a regular fire pit. Outdoor gas fire pit tables come in various heights, ranging from that of a dining table to a bar table. When it's not being used as a fire pit, it can serve a dual purpose as an outdoor coffee table or entertainment area, thanks to its burner cover. Although fire pit tables come in both gas and traditional wood-burning options, many prefer the sleek, modern feel of a gas fire pit fueled by natural gas or propane. Add other elements like lava rock, ceramic logs, or fire glass for a more realistic look. You'll be ready to plug-and-play in no time with your new outdoor gas fire pit table from Bay Stoves!
What Are Some of the Benefits of Gas Outdoor Fire Pit Tables?
Many Maryland homeowners have discovered how user-friendly gas outdoor fire pit tables can be. They give you the appearance and aroma of a campfire without the constant hassle of feeding firewood into the fire or the messy smoke. Anyone with a smoke sensitivity will thank you for your consideration. They're also easy to control and operate with the touch of a button. Here are other benefits:
Increased Safety & Enjoyment – Flying sparks and debris will never be an issue with your new gas fire pit table, making them a safer option if you have kids or pets. Most gas fire pit tables come with more safety features than their wood-burning counterparts. Never worry about messy smoke, unpleasant black residue from soot on your patio, or the hassle of trying to start a fire with wet logs ever again!
Better Heat Control – Gas fire pit tables have dials to allow you more precise heat control. By controlling the amount of fuel released into your fire pit at any given time, you can turn up the heat on fall nights or turn it down on humid summer nights for energy savings.
A Cleaner Burn – Because gas fire pit tables usually burn with natural gas, propane, or ethanol, they're considered more environmentally-friendly than wood fire pits, which generate smoke, soot, and ashes. Not only will you enjoy a cleaner burn, but there will also be less maintenance!
Complements Any Décor – Outdoor gas fire pit tables come in countless designs and styles to complement any décor. Adding decorative elements such as lava rock or fire glass can help you customize your fire pit's look. Some homeowners even like to switch these out seasonally!
We've Built a Reputation for Superior Customer Service
Bay Stoves has been in the business of selling high-quality pellet stoves, fireplaces, and BBQ equipment for over thirty years. Our new ownership team, Eric and Kathy Yff, is committed to continuing Bay Stoves' unique brand of customer service, built on our quality products and installation services, and proven by our satisfied customers throughout Annapolis and the surrounding area. Come and visit us at our showroom and discover the practical and aesthetic benefits of owning a pellet stove.
Contact or Visit Bay Stoves for the Best Selection & Pricing
When it comes to the best outdoor gas fire pit table selection and pricing, you can't go wrong with a visit to Bay Stoves in Edgewater, MD. A leading hearth and outdoor products provider since 1985, we carry many high-quality brands, including Mendota, Jotul, Enviro®, Montigo®, Yeti®, The Outdoor Greatroom Company, Big Green Egg®, Real Fyre, and Stoll Industries. To learn more about our products or to inquire about pricing and our availability for installation, we urge you to call or stop by our showroom today!