Skip to Content
Premium Wood Fireplace Inserts in Edgewater, Bowie & Annapolis, MD
Compare Wood Fireplace Inserts Costs in Bay Stoves' Showroom
There's no substitute for a warm, crackling fire on a frosty winter night. However, heat loss is a major concern if you own a traditional wood-burning fireplace. When temperatures dip below freezing, your fireplace will end up exhausting more energy to pull warm air out of the room for the fire than the amount of energy it creates. Don't fret. Bay Stoves offers a practical solution. We have wood fireplace inserts for sale to accommodate Edgewater, Annapolis, and Bowie, MD homeowners. Investing in wood fireplace inserts will increase your fireplace's overall energy-efficiency without sacrificing your comfort. Please contact our store today for more details, including average wood fireplace inserts costs!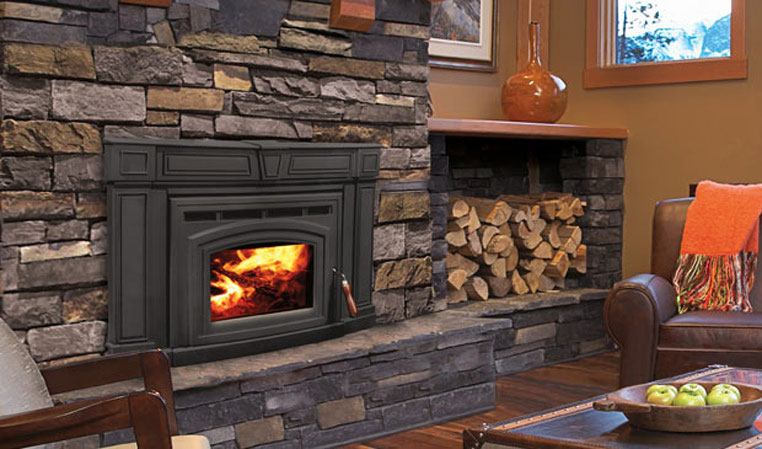 What Are Wood Fireplace Inserts, and Why Would I Need One?
Wood fireplace inserts are wood or gas stoves modified by a manufacturer to make them more energy-efficient. Inserted into your fireplace's firebox, they trap heat to reduce heat loss and wasted energy. It helps to visualize them as a fireplace within your fireplace. Many types of fuel are used to create the heat inside a fireplace insert, including natural gas, propane, pellets, wood, and even electricity. When you select a wood fireplace insert, you'll be using actual logs to generate the heat. If you've noticed your old wood-burning fireplace feels a bit drafty, a fireplace insert may be your best bet. They're often used to convert traditional masonry fireplaces into more efficient heating systems. Steady improvements in wood fireplace insert designs have also allowed them to improve in performance.
What Advantages Do Wood Fireplace Inserts Offer?
Whether you're concerned with your wood-burning fireplace's appearance or functionality, there are many reasons why you should consider investing in a wood fireplace insert, including:
Increased Energy-Efficiency – The most common reason to invest in wood fireplace inserts is to improve your fireplace's energy-efficiency. If you select an EPA-certified fireplace insert, you can expect to increase your energy efficiency by as much as 87%. That's not too shabby, and you'll start to notice savings on your monthly energy bills. Say goodbye to fireplace drafts forever!
Less Fuel Burned – Not only do wood fireplace inserts increase energy-efficiency, but they also reduce smoke and pollution. Your fireplace will also enjoy a slower burn rate, offering as much as five hours of interrupted heat while consuming less fuel on average. EPA-certified inserts can help you reduce your fireplace's emissions significantly.
Easy Maintenance – Because fireplace inserts are self-contained, they require little to no maintenance. Invest in a wire brush and be sure to remove the dirt, debris, or creosote build-up from inside your fireplace's walls and doors. You'll also need to remember to empty the ash from your firebox from time to time.
Cheaper Renovation Option – Renovating an old masonry fireplace can become costly, depending on the amount of labor involved. Adding a fireplace insert is not only usually much cheaper, but it can save you time as well. Wood inserts for your fireplace are quick and easy to install, especially when compared to the days or weeks required to complete a total remodel.
What Are the Best-Rated Wood Fireplace Inserts Brands?
We have small and large wood fireplace inserts for sale at Bay Stoves to accommodate your needs. Size does matter when choosing the top-rated wood fireplace insert for your home. We carry these brands, renowned for their quality and affordability, as well as for being among the most efficient wood fireplace inserts on the market:
Osburn Wood Fireplace Inserts
Jotul Wood Fireplace Inserts
See the Best Wood Fireplace Inserts Maryland Has to Offer
If you're looking for the best wood fireplace inserts money can buy in Maryland, you'll find everything you need at Bay Stoves. A leader in the hearth products industry since 1985, we're conveniently located in Edgewater. In addition to fireplace inserts, we also carry wood, gas, and electric fireplaces, stoves, pellets, gas logs, outdoor fire pit tables, and more. Please call or stop by today to browse our inventory!