Skip to Content
Outdoor Fireplace in Edgewater, Annapolis & Bowie
Maryland's Source for Beautiful Outdoor Fireplaces
Imagine the possibilities of an outdoor fireplace. From an aesthetic accent to a backyard pool and BBQ party to added warmth on a fall night, outdoor fireplaces offer varied benefits. At Bay Stoves, we're committed to applying our experience and expertise to helping Anne Arundel find the right outdoor fireplace. From sleek, modern-looking options to brick-enclosed classic designs, we're proud to be a retailer of Montigo outdoor fireplaces. Anne Arundel customers have put the finishing touches on their patio renovation projects and added a new element to their house since 1985 with our high-quality projects.
An Overview of the Outdoor Fireplaces We Have to Offer
Montigo is well-known for offering a wide range of outdoor fireplaces. Anne Arundel customers have been taking advantage of what they offer for years. Our showroom boasts an array of options, including:
Mahana 42": Viewable at our showroom, Mahana is a stainless-steel constructed, wind and weatherproof option that makes for a versatile choice. The Mahana comes in a variety of colors.
H34VFO: This fireplace is an adaptation of our indoor model and is perfectly suited for the outdoors, boasting a square viewing area and airtight design that keeps the elements out.
H38SVO: See-through and ventless, the H38SVO is perfect for enclosed patios because the back is see-through, allowing for views of your backyard.
M38VFO: Another one of Mantigo's indoor fireplaces, adapted for outdoor living, the M38VFO has a large viewing area and can be placed anywhere on your patio.
Mahana 60": Rectangular and modern, this outdoor fireplace combines timeless mid-century modern design with functionality, making for the perfect gathering spot during BBQs.
Visit Our Showroom to View the Mahana by Montigo
Our showroom includes Montigo's Mahana models, and we have them beautifully-displayed. All of our products come with capable and friendly installation. Our installers are quick and professional, and never cut corners. To get started, contact us today.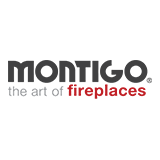 Providing High-Quality Hearth Products Since 1985