Skip to Content
Chimney Sweep Professionals in Edgewater, MD
Keep Your Home Safe with a Chimney Cleaning
Summer and fall are the perfect time to have your chimney cleaned. We've all been there. The warm months are long gone and the pleasant fall afternoons give way to the first cold snap of the year, and the first thing we want to do is use the fireplace. Don't miss out on an evening's worth of reading or board games by the fire, do your annual cleaning and checkup now.
Maintaining the cleanliness of your chimney is vital to the longevity and safety of your stove. While we know taking care of a chimney can be dirty and difficult work, our team is well-versed in the art and can handle any issues that may arise. If you are looking for a professional chimney sweep in Edgewater, Bowie or Annapolis, MD, Bay Stoves is ready to help!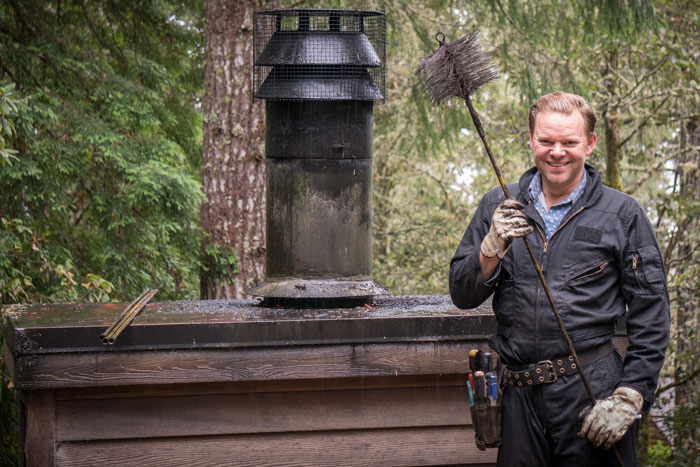 Why Do I Need Annual Chimney Cleanings?
Smoke, water, and other particles produced by a winter's worth of fireplace use clog the inside of your chimney's walls. It is vital to keep your chimney clean, as blockages can lead to fires and prevent smoke from leaving your home.
Cleaning your fireplace's chimney isn't something you should do yourself. Our chimney sweeps are highly-trained and are sure to clean your chimney completely. More importantly, all our chimney cleaning professionals are certified by the National Fireplace Institute, the only certification industry that actually tests the knowledge and performance of its members. Because they are required to pass an examination in wood-burning, and gas fireplaces, our technicians can handle any fireplace cleaning job.
Bay Stoves is a trusted chimney sweep in Edgewater, Bowie, and Annapolis, MD for one reason. Our expertise covers every part of your chimney, so you can be sure that everything is clean, safe and ready for use.
Chimney Sweep Services Include:
Chimney Cleaning
Gas Fireplace Cleaning
Pellet Stove Cleaning
Gas Service & Maintenance
Pellet Service & Maintenance
Repair & Install Crowns
New Caps
Installations
Service
Typical Chimney Cleaning Involves:
Equipment Set-up
Drop Cloths
Vacuum
Light
Chimney Cleaning Tools
Ladders
Chimney is swept from top to bottom, down to the fireplace, wood stove, or pellet stove
Chimney connector pipe is then cleaned out
Heating appliance is them cleaned out completely
Glass is cleaned if applicable
The work area is left neat and clean when the job is complete
Bay Stoves has over Thirty Years of Experience in the Hearth Products Industry
Bay Stoves has over thirty years of experience in the hearth industry, serving the residents of Edgewater, Bowie, Annapolis and beyond. Whether it's selling premium fireplace products and supplying BBQ enthusiasts with the products they need for their Fourth of July celebration, we pride ourselves on the quality of our products and the friendliness and knowledge of our staff. Contact us today for a chimney cleaning or visit our showroom in Edgewater, MD to install a new hearth product.
Need your chimney cleaned? Contact us today. (410) 956-7101.
Chimney caps
A chimney cap is an inexpensive metal object, usually mesh, that blocks animals from climbing down your chimney. While many people view this as an optional addition, we think it is well-worth the small price of installation to have one. When we come to your home to clean, we will check the state of your chimney cap. If it is broken or otherwise compromised, we can fix it or install a new one so that no critters will have an easy way into your home through the chimney.
Chimney liners
Chimney liners are a vital part of the entire chimney and thus have been made mandatory by nearly every fire code nationwide. This is because they protect your home from the heat and corrosion that occurs from using a stove. If liners aren't properly cleaned and maintained, it can lead to long-term damage or even something as sudden as a chimney fire! There are a few main chimney liner options, and we are experienced at working on them all. The most common are clay tiles, an affordable and effective solution. There are also metal liners made of stainless steel or aluminum, two options that are more expensive but very durable. There are also cast in place chimney liners, a cement like finish that can be great for reinforcing existing work. No matter which of these liners we encounter at your home, we are able to clean or repair them as needed.
Chimney crowns
Chimney crowns are the protruding section of the chimney that you can see at the top of your home. Unlike the metal chimney cap that only covers the opening to the flue, crowns cover the entire top of the chimney. While this is a vital part of your chimney, damage to it is not something you would see from the ground. Only by being on the roof and looking closely can you analyze its integrity and repair any issues. If we see damage to your crown, we can repair it so your chimney remains properly weather-proofed.
Providing High-Quality Hearth Products Since 1985