Skip to Content
Pellet Fireplace Inserts in Edgewater, Annapolis & Bowie
Modern Pellet Fireplace Insert Installations
This winter, stay cozy and comfy in your home with a pellet fireplace insert by Bay Stoves. Our Edgewater, MD fireplace and hearth services have everything you need to stay warm in style. Pellet fireplace inserts are one of many styles of fireplaces we provide to our customers. They're efficient, affordable, and look great in any home, no matter your design style. We'll go over the many advantages of owning a pellet fireplace insert and how you can get the most heating in your home for your money. When you're ready to learn more, give us a call or visit our showroom. Our team has over 30 years of experience helping customers make the most of their homes.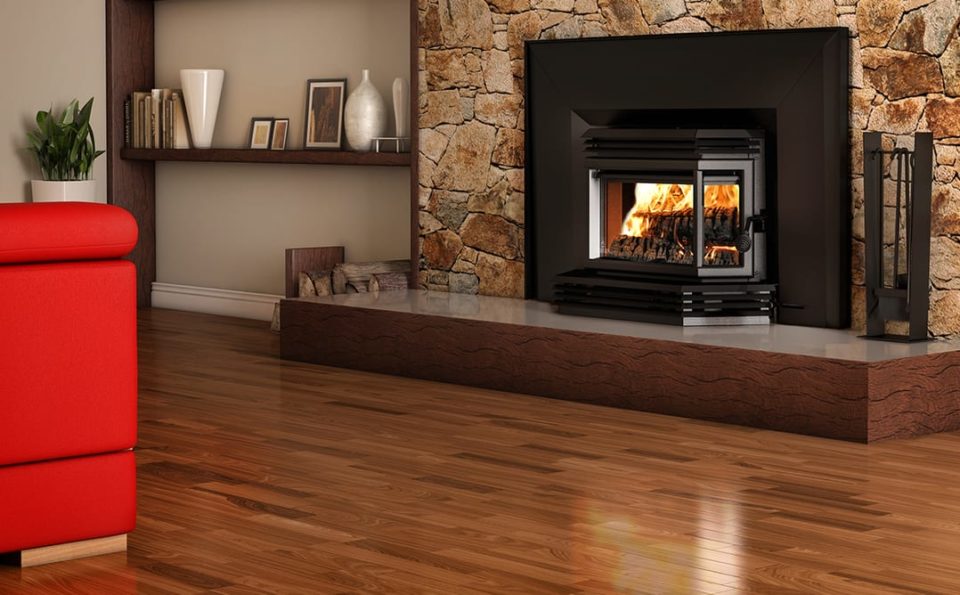 What Is a Pellet Fireplace?
A Pellet fireplace is basically a fireplace in a box. The insert is created from strong, insulated metal that is ready to slide into your existing fireplace area. They can be fabricated in a variety of sizes and styles to meet your needs. These efficient fireplaces are run by burning small wood pellets. These pellets are more economical compared to wood logs, electricity, or traditional heating oil. As opposed to a traditional fireplace, pellet fireplaces use convection heating to warm your room. The convection blower in a pellet fireplace pulls in cool air from the room, passing it over the fire, and returning it to the room as hot air. This lets your pellets burn evenly and efficiently while heating your room with clean air. An exhaust blower removes exhaust gas through the back of the fireplace, keeping you and your family cozy and safe.
Benefits of Pellet Fireplaces
There are many benefits of installing a pellet fireplace insert in your home!
Easy to Install
Pellet-fed fireplaces use the same space as your existing fireplace area. With a new metal chimney liner and an exhaust fan, they are simple and quick to install. Our installation techs will be in and out of your home before you know it! You do not have to worry about modifying your home or maintaining complicated connections to enjoy your new fireplace.
Simple Operation
Pellet fireplaces use simple pellets to create fire to heat your home. Pellets are cleaner and easier to store and deposit in your fireplace than traditional wood logs. All you have to do is load the pellets into the hopper when you run low. The hopper takes care of the rest, adding the right pellets at the correct time. Say goodbye to sweeping up dust, debris, and soot from your traditional wood-burning fireplace.
Customizable Temperatures
Just as adding pellets to your fireplace is easy, so is daily operation! Manual and automatic controls allow you to choose how warm you want your room to be. Many models have remotes and settings to control how hot you want your room to be – a drastic improvement from adding logs on a fireplace to keep warm.
Economic and Renewable Energy
The pellets your fireplace will use are sourced from forest waste products. You are not depleting land, harming environments, or deforesting anything by using your fireplace. Pellet fireplaces are a great step in environmental-conscious heating.
Cleaner and Less Maintenance
Burning wood creates creosote, lining the chimney liner with a flammable substance. Pellets create significantly less creosote than burning traditional logs. They are also better at emitting more heat than firewood, being more efficient in all situations.
You also don't have to worry about as much maintenance as traditional wood-burning fireplaces. Pellets are mail and fed through a hopper, creating several days of heat with just a single load of pellets. You also don't have to constantly feed logs into a fire as pellets are more manageable.
Find Your New Fireplace Today!
Contact us today or visit our Edgewater location to find out more information about your new pellet fireplace insert!
Providing High-Quality Hearth Products Since 1985