Skip to Content
Expert Chimney Maintenance Services in Edgewater, MD
Keep Your Home Safe with a Chimney Inspection and Cleaning
Summer and fall are the perfect time to have your chimney cleaned. We've all been there. The warm months are long gone and the pleasant fall afternoons give way to the first cold snap of the year, and the first thing we want to do is use the fireplace. Don't miss out on an evening's worth of reading or board games by the fire, do your annual cleaning and checkup now.
Not only do you want to protect your investment by keeping your home safe from fire damage, but you also want to protect your family. Fireplaces are wonderful additions to any home and can boost the resale value of your home, but they do require routine maintenance. Bay Stoves offers chimney cleaning to Anne Arundel homeowners. Let us keep you safe with a thorough examination and cleaning of your fireplace's chimney.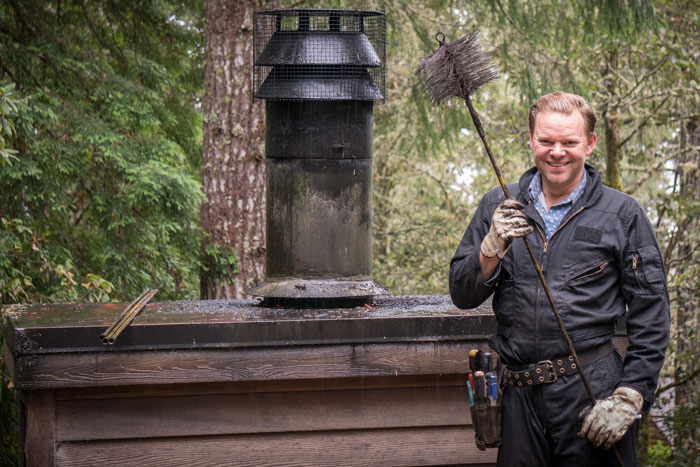 Why Do I Need Annual Chimney Cleanings?
Smoke, water, and other particles produced by a winter's worth of fireplace use clog the inside of your chimney's walls. It is vital to keep your chimney clean, as blockages can lead to fires and prevent smoke from leaving your home.
Cleaning your fireplace's chimney isn't something you should do yourself. Our technicians are highly-trained and are sure to clean your chimney completely. More importantly, all of our chimney cleaning professionals are certified by the National Fireplace Institute, the only certification industry that actually tests the knowledge and performance of its members. Because they are required to pass an examination in wood-burning, and gas fireplace, our technicians can handle any fireplace cleaning job.
Services Include:
Gas Fireplace Cleaning
Pellet Stove Cleaning
Gas Service & Maintenance
Pellet Service & Maintenance
Repair & Install Crowns
New Caps
Installations
Service
Typical Chimney Cleaning Involves:
Equipment Set-up
Drop Cloths
Vacuum
Light
Chimney Cleaning Tools
Ladders
Chimney is swept from top to bottom, down to the fireplace, wood stove, or pellet stove
Chimney connector pipe is then cleaned out
Heating appliance is them cleaned out completely
Glass is cleaned if applicable
The work area is left neat and clean when the job is complete
Bay Stoves has over Thirty Years of Experience in the Hearth Products Industry
Bay Stoves has over thirty years of experience in the hearth industry. Whether it's selling premium fireplace products and supplying BBQ enthusiasts with the products they need for their Fourth of July celebration, we pride ourselves on the quality of our products and the friendliness and knowledge of our staff. Contact us today for a chimney cleaning or visit our showroom to install a new hearth product.
Providing High-Quality Hearth Products Since 1985