Skip to Content
Electric Freestanding Stoves in Edgewater, Annapolis & Bowie
Bay Stoves Has Many Electric Freestanding Stoves for Sale
Imagine the cozy warmth of a fireplace without the fuss of gathering firewood or cleaning the ashes from your chimney. Get the ambiance you desire without all the hassles when you opt for an electric freestanding stove. In business since 1985, Bay Stoves offers some of the best electric freestanding stoves in the Edgewater, Annapolis, and Bowie, MD area. We encourage you to visit our showroom to see our selection of electric freestanding stoves for sale in person before making your purchase to ensure your satisfaction. Please contact or visit us today to request an estimate!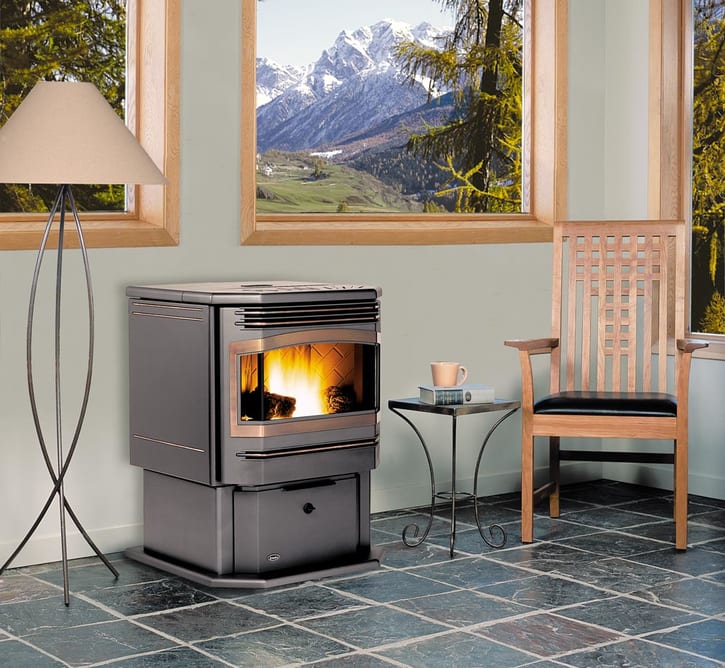 What's a Freestanding Stove? Is It Best for My Needs?
A freestanding stove is exactly what it sounds like. It's called "freestanding" because it's not mounted to your walls like traditional wood or electric fireplace. Electric freestanding stoves come in various sizes, styles, and colors to complement any home décor. Also commonly referred to as electric fireplace heaters, freestanding electric stoves are durable, portable, and more eye-pleasing than space heaters. Thanks to their adjustable brightness settings and sophisticated 3D flame effect technology, today's state-of-the-art electric freestanding stoves offer the illusion and ambiance of a real fireplace.
What Are Some Benefits of an Electric Freestanding Stove?
While you can't go wrong no matter what type of heat source you choose, electric freestanding stoves offer some distinct advantages over the alternatives, including:
Space-Efficient – If space is at a premium in your family room, electric freestanding stoves come in a multitude of sizes to ensure a perfect fit. They take up far less space than a traditional wall mounted fireplace. Many can be combined with fireplace media centers, bookshelves, and other furniture, making them a practical space saver.
Energy Savings – Electric fireplaces and freestanding stoves make an excellent choice for cutting energy costs without sacrificing heat. Most electric freestanding stoves come with a remote control, so you can adjust their brightness and heat levels at the touch of your fingertips. Use your new freestanding stove as zone heating to save money on your central heating bills.
Safe for All Spaces – Electric freestanding stoves are safe for usage in a home, apartment, or condo. They're easy to install and portable, meaning they can be moved from room to room. Electric fireplaces and freestanding stoves are both kid- and pet-friendly.
Environmentally-Friendly – Reduce your carbon footprint with an environmentally-friendly electric freestanding stove today. You won't have to worry about harmful carbon dioxide or monoxide emissions or dangerous creosote build-up, which could lead to a fire. If anyone in your home suffers from asthma, their respiratory condition also won't be as aggravated as it would be with a wood or gas fireplace in the home.
Carrying Top-of-the-Line Dimplex® Electric Freestanding Stoves
If you value old-world charm and craftsmanship, you'll fall in love with our product offerings from Dimplex®, including the eye-catching Celeste Electric Stove and the Stockbridge Opti-myst® Stove featuring authentic-looking flame and smoke effects. Add the perfect finishing touch to any room with an electric freestanding stove from Dimplex® today!
Contact Our Electric Freestanding Stoves Dealer Today
When making your new electric freestanding stove purchase, we encourage you to visit our spacious showroom in Edgewater, MD to compare models. You may also reach out to us via phone or email with any questions or concerns you may have while browsing our products in-person or online. In addition to freestanding stoves, we feature high-quality hearth products of all varieties, including gas, wood, and electric fireplaces, outdoor fire pits, fireplace inserts, and more!